Claire (White) Holder was born and raised in Enumclaw Washington.  She has a passion for both enterpenourship and animals, making this certification a natural fit for following her passion.
Claire has a loving husband, Grant, and two beautiful girls, Karlee and Addi.
"I do feel blessed to have the support and passion to follow this mission.  Yes, I do feel it is a mission.  Having two young girls, has brought it to my attention that our children need to pull out of their books and computer and come back to everyday interactive learning.  Like talking to other peoplpe and problem solving together!  I also have gone through some very challenging times in my life.  This has created depression and anxiety (that could be diagnosed as PTSD).  It has been quite a challenge to understand why we have to go through these experiences, non the less deal with the aftermath of what they create.  I hope that I can help out our community and address the issues that I have personally experienced and see in others around me." - Claire

Certified EAL Facilitator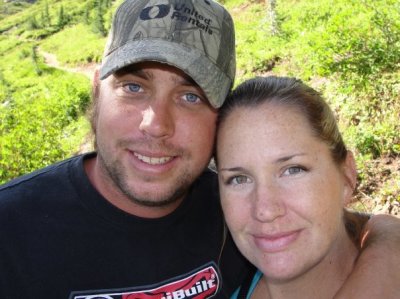 Teacher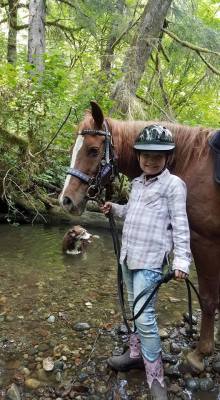 Jasmine is a 13.2 hand, 18 year old Arab mix from the feedlot.
Her past experience has been a brood mare, having been pulled out of the feedlot pregnant.
She is an amazing addition to our family and a great teacher.

She is currently my 8 year old, Karlee's main squeeze!
They ride the trails bare back with just a haulter and rope.
Sassy is her nick name . . . for good reason:)
Teacher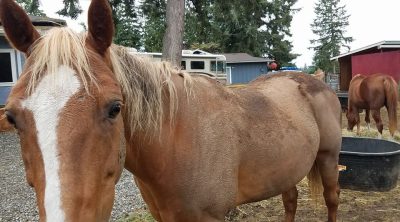 Bella is a 15.1 hand, 9 year old unknown breed, maybe quarter horse?
She came to our family in July of 2017, lame on her front right.
She has obveously has gone through a lot of trama and traded hands many times.  She has slowely started accepting love from us with consistancy and patients.
We are currently working on her pain in her front right and will not put her in the program until she is clear of pain.
We think she is such a teacher and excited to see her free of pain so she can move freely.
Nick name, Belly boo . . . she loves her food!
Teacher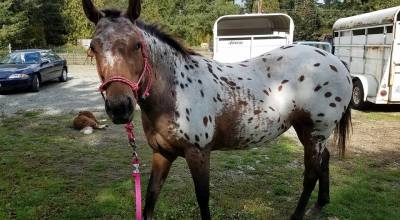 Hazel is a 14 hand, 5 year old Appy from a local herd dispersment.
She joined our family in September 2017.
She was untouched with little to no experience.
She has been in training since she came to be part of our family and is doing amazing!
With her quiet demenor, she is good for any use and will be one of our main trail horses on the off days that she is not teaching.  
She is one of the kindest souls I have met in a horse.  Very loving and accepting.
We keep calling her "Little Miss".  Don't know if that is a nick name or if that is her chosen real name.
Teacher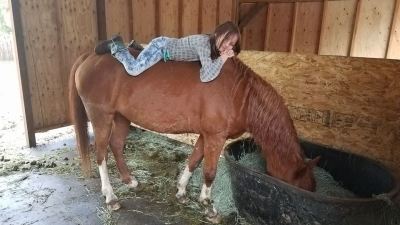 Lady is a 14.2 hand, 20 year old Arab (at least that is what her papers say but she looks like a non paint, paint).
Lady came to us from a private seller quite underweight.
Come to find out, she is hard to keep weight on because she is very sensitive to change both in the herd and in her environment.
She holds a big spot in my heart as a favorite because she is blind in one eye and bossy as heck!  She demands to be one of the top horses when it comes to food and she does a great job of bossing around the herd.
But you woud have no idea if you met her under any other situation.
She is kind as can be.
Her nick name is Miss Bossy Pants.